Foundation Goals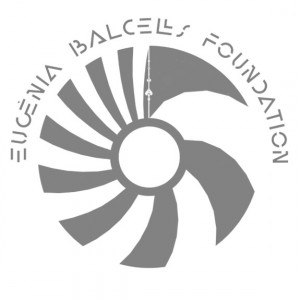 The EUGENIA BALCELLS FOUNDATION has two main lines of action:
– To preserve Eugènia Balcells' legacy: assisting the artist with the appropriate caring of her works, co-organizing exhibitions to make them accessible to the public, promoting research projects connected with her artistic commitment, and internationally disseminating her contribution connecting the worlds of art and science.
– To become an artistic institution open to organize art presentations, interdisciplinary workshops, and meetings between artists, scientists and thinkers in order to enrich creativeness and engagement. It will provide a meeting ground, a bridge between otherwise separate disciplines.
The EUGENIA BALCELLS FOUNDATION will encourage a view of the world that cherishes our variety, our differences, and our multicultural richness developing new visions and new means of expression, more suited for our fast changing world and contemporary challenges. Given the reflective character and the expressive clarity of the works of Eugènia Balcells, as a creativity center, the EUGENIA BALCELLS FOUNDATION, wants to become an educational vehicle for individuals and institutions that search in the arts a way to access knowledge.
"Eugènia Balcells takes on the three-fold challenge of filming an exhibition, FREQUENCIES, its educational outreach and the testimonies of
its visitors, combining them into a single, forceful and convincing film."
Jordi Balló
Lecturer in Audiovisual Communication, UPF
The first 8 min. of a 47 min. film
RICE IS PLANTED WITH RICE is a film by Eugènia Balcells that documents the extraordinary process of interaction between her exhibition project, "FREQUENCIES", and the public who visited it.
"FREQUENCIES", an exhibition initially comprising the installations FREQUENCIES, COLOR WHEEL and LABYRINTH, and a working space, proposes a journey to the origin of light and colour, where artistic sensibility, scientific curiosity and technological skill come together.
The working space, presided by the light spectra of each of the elements of the periodic table, prompted and provided a very natural setting both for academic debate and the questions of many visitors who, strangers when they arrived, began to exchange impressions and knowledge with obvious interest. This was how, quite unexpectedly, the great shock wave of the exhibition in Barcelona began (Arts Santa Mònica, September-November 2009).
RICE IS PLANTED WITH RICE is the product of following up the news that reached us from primary and secondary schools and faculties about the work prompted by their visits to "FREQUENCIES". We were amazed to discover that the creative projects featured in the documentary took place over long periods of time and that most were carried out once the exhibition had closed its doors.
The Museo de Arte Contemporáneo Gas Natural-Fenosa was the first stop in the travelling exhibition of "FREQUENCIES" (A Coruña, December 2009-June 2010) and the venue for the first showing of this film that says so much about the impact that artistic proposals can have in the field of education.
Eulalia Bosch
Curator of the exhibition.